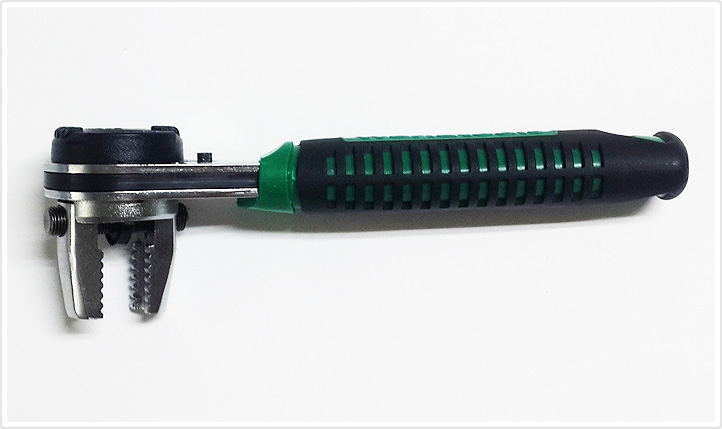 Product Name :

Adjustable Rachet Wrench (WVR-22)
Functions :

Applicable to various types such as hexagon head bolts, square bolts, etc. in mm/inch sizes
Rachet tools for continuous operation; No. of gear teeth: 60; Rotation angle: within 6 degrees
Rubber-type structure with a convenient handle
Noticeable Differences :

While existing products are of a round-contact type, this product is of a diamond shape contact type for close adhesion.
While existing products need a socket, this product does not.
Simple movement, convenient use.
While existing products are used only for bolt/nut connection, this product can be used more widely for tab work,square bolt joining, flat plate joining, wing nut joining and loosening, etc.
Usage :

The developed product requires no socket unlike existing products. As jaws move, it is possible to loosen and tighten target objects (machinery parts).
Usage :

1) Rotate the roller at the head section, and then adjust the opening section according to the bolt/nut size.
2) Put the lever in the "R" direction (right) or the "L" direction (left)
3) You may continue using existing socket wrenches by means of an adapter.
Features :

International patents (U.S., E.U., Japan, China) obtained or applied for
Specifications :

8-22mm / M6 (1/4") – M12 (3/8")
Development Period :

Feb. 10, 2014 to Dec. 30, 2014